Skip to content
For most environmental firms, Phase I Environmental Site Assessments need to be offered on the menu. These popular reports are often a foot in the door to new clients and future revenue. Unfortunately, firms face a lot of competition in bidding for Phase I ESAs, which keeps prices at or lower than production costs for some.
We hear it over and over again. No matter how much the economy changes, the price of Phase I ESAs remains the same. And that's a problem when you hope to win new business without making these reports a loss leader.
The Phase I ESA pricing challenge
While Phase I ESAs have to be on the menu, they can't be the daily special. You cannot expect to put premium pricing on this commoditized service, as there is a standard price range that both real estate developers and environmental bankers expect.
"When I request bids for a project, my internal customer is often concerned about the price tag," says Rita K. Wiggin, CHMM, VP, Environmental Risk Manager at First Bank. "I see consistently low pricing as a red flag, and I may advocate for a vendor who I know does quality work, even if the price is a few hundred dollars more than the others. However, it is common for my internal customer to make a decision based primarily on cost."
In general, developers expect a high-quality report at or near the market average price. How can consultants receive proper compensation for their efforts without reducing report clarity and accuracy? It's all about your operations.
Report editing time is the key
Efficiency is the biggest factor interfering with your ability to price Phase I ESAs competitively without short-changing your own firm. Writing and editing reports quickly allows you to price competitively while making a profit—or at least without losing revenue.
At Quire, we've compiled benchmark data on Phase I ESA report writing and editing times from 30,000+ Phase I ESAs. We used Quire's unique data capabilities to log active report writing and editing times across these reports. As we've unrolled this new benchmarking feature to clients, many have been surprised to learn they were taking far longer than the industry mean.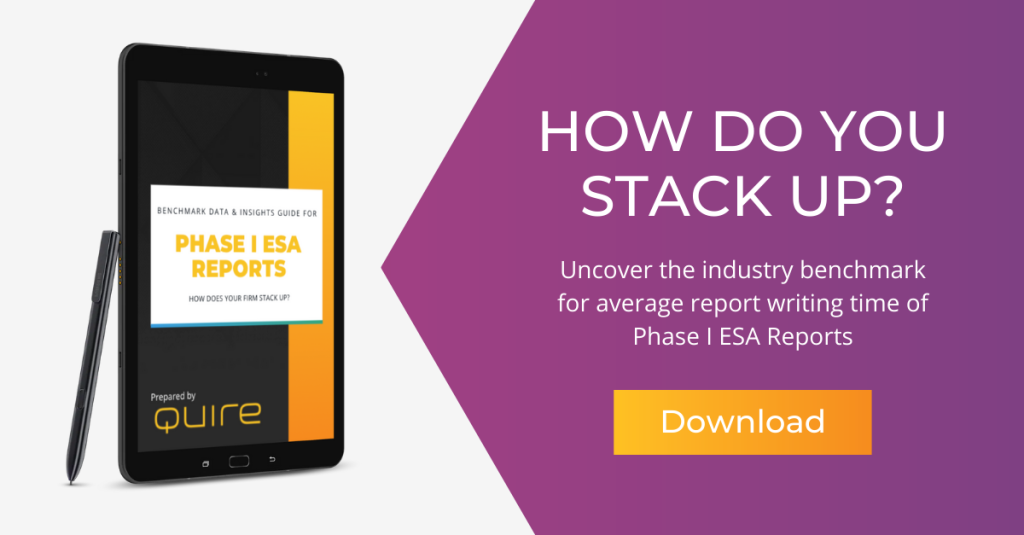 If your firm trends on the higher side, it is harder to compete on price without losing a profit margin.
Of course, faster report writing can raise some eyebrows internally. Consultants need to be thorough to identify RECs (Recognized Environmental Conditions) and produce accurate reports.
So how do you find the perfect combination of efficiency and quality?
Insights from high-volume ESA firms
Many high-volume firms have already learned how to produce Phase I ESA reports efficiently without sacrificing quality. In fact, we've found that firms generating greater than 100 Phase I ESA reports per year can build reports 25% faster than lower-volume firms (those producing fewer than 100 reports per year). You can learn more about these numbers in our Data & Insights Guide for Phase I ESA reports.
What do these firms do differently?
They optimize their templates for success.
They optimize back-end processes around collecting data.
They ensure that everyone in the firm knows their role in the report-writing process, and tasks are delegated according to each person's expertise.
They discard outdated tools like Microsoft Word in favor of more efficient report-writing tools.
Building an efficient Phase I ESA report template
Every consulting firm tries to streamline its report writing and editing workflows by building templates that make it clear what parts of a report to edit, remove, etc. But we've seen these attempts become a confusing jumble of highlights and comments that are tough to follow for even the most experienced consultant. We've seen:
Consultants forced to scroll frequently to reference a chart explaining the meaning of eight different highlight colors.
Instructional text that must be removed from the report and large blocks of sample text the writer must read through, ascertain what to keep, and then delete the non-applicable content.
Text left in from a previous client's report (instead of using generic placeholder content), increasing the chance of passing irrelevant or even harmful information to the current client.
Look, if you want different results, you have to try different approaches. You can try again and again to use the features in Microsoft Word to build templates, but ultimately, Word is not optimized for technical report writers. In fact, Word-based templates are often bypassed by writers altogether in favor of overwriting a previous report.
Changing your tool can empower consultants with clear instructions that don't require them to jump through hoops and it can help them focus their energies on critical analysis rather than data entry and format tweaking.
Quire is a cloud-based report writing solution that helps you populate your most important data both efficiently and accurately. Built by former environmental consultants, Quire helps you build your templates to be as efficient as possible while maintaining high-quality data and consistent formatting.
Let our experience help show you the way. Request a demo to learn more about Quire's versatile report-writing software. And learn how to optimize your templates in our free benchmark report.