For years, Quire has analyzed tens of thousands of Reports from dozens of market lines generated all around the world. As Quire works to provide productivity-enhancing solutions for Clients, we've developed unique time-tracking and process data from the firms that use our platform. We've created MarketWatch as a way to share this data with report-writing professionals both in and outside the Quire solution.
In this special edition of Quire's MarketWatch we're taking a look back at 2022.
A lot has fluctuated over the past three years when it comes to the CRE, Environmental, and Technical Report writing industries. Our team wanted to take a look at 2022 to help identify patterns and even make predictions about the year to come. Where are Reports concentrated across the nation? How has the average turnaround time for certain Service Lines changed over the last few years? How has the economy impacted our industry?
Where did most Reports take place?
The heatmap below showcases clusters of geographic volume trends for Reports written in Quire across all service lines. There is a large distribution of Reports generated for the east coast, with a few larger singular clusters sprinkled across the west coast. Coming in ranked at #1: Memphis, TN (38118). Also of note, Virginia had five zip codes featured in the top 20, which was the most of any state.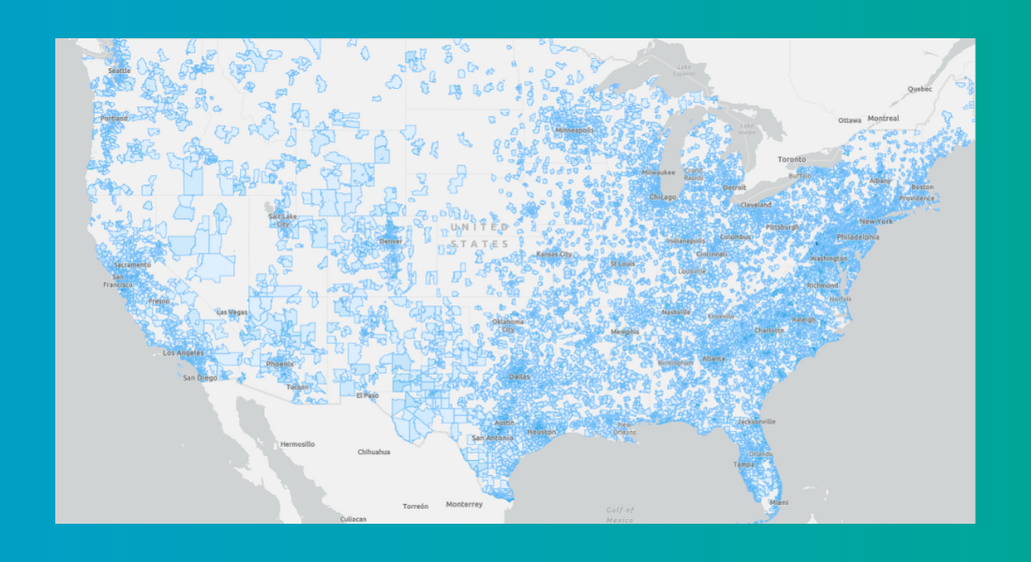 Top 20 Cities With the Most Technical Report-Writing Activity in 2022 (across all Quire service lines)
| | | |
| --- | --- | --- |
| | City, State | Zip Code |
| 1 | Memphis, TN | 38118 |
| 2 | Hagerstown, MD | 21740 |
| 3 | Washington DC | 20002 |
| 4 | Denver, CO | 80205 |
| 5 | Irvington, NJ | 07111 |
| 6 | Alexandria, VA | 22314 |
| 7 | Washington DC | 20001 |
| 8 | Manassas, VA | 20110 |
| 9 | Rockville, MD | 20850 |
| 10 | Columbia, SC | 29210 |
| 11 | Baltimore, MD | 21601 |
| 12 | San Diego, CA | 92121 |
| 13 | Jacksonville, FL | 32256 |
| 14 | San Marcos, TX | 78666 |
| 15 | Brooklyn, NY | 11211 |
| 16 | Manassas, VA | 20109 |
| 17 | Austin, TX | 78758 |
| 18 | Richmond, VA | 23224 |
| 19 | Sparks, NV | 89431 |
| 20 | Sterling, VA | 20166 |
Service Lines in Review
Taking a look at the volume of Reports for some of our top service lines, only two System Labels saw decreases in volume from 2021 to 2022: ESA Transaction Screens and PCA Freddie Mac Reports.
However, when we look at the percentage increase for the same Service Lines year over year, many System Labels saw smaller increases from 2021 to 2022 than they did from 2020 to 2021 including Asbestos (ACM) Surveys, ESA Phase I – ASTM, PCA Debt – ASTM, and Zoning Assessment Reports. Construction Progress Monitoring is the only exception. So, while Service Line Reports continue to grow in volume overall, we're seeing a slower growth from 2021 to 2022 than we did from 2020 to 2021.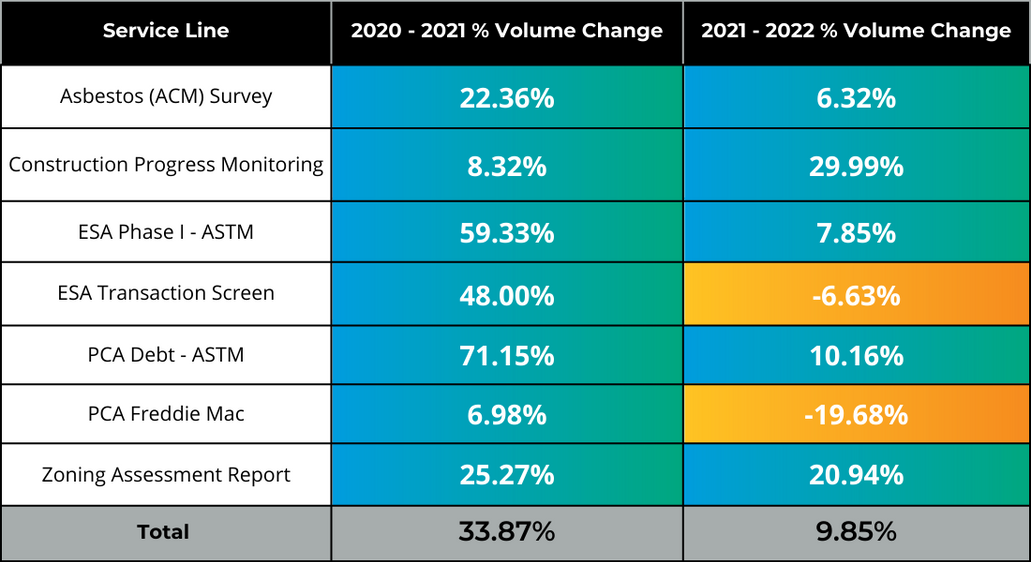 Turnaround Time by Service Line
Quire is measuring Turnaround Time as the number of business days from Report creation to when our customer marks the Report delivered as per their contractual obligation to their client. A typical industry standard for Turnaround Time is 15 business days, but let's see how this has played out.
Over the past three years, Report turnaround times (measured in business days) have either increased or remained largely the same. There are a few factors that could contribute to this increase:
Increased Demand: This means that environmental consulting firms are receiving more requests for Reports like Phase I ESAs, which can lead to longer turnaround times due to an increase in workload.
COVID-19: The pandemic has caused delays in the supply chain, reduced fieldwork capacity due to restrictions, and increased administrative burdens, which can all contribute to longer turnaround times.
Regulatory Changes: Changes in regulations and standards can also impact the time it takes to complete a Phase I ESA. For example, the ASTM E1527-13 standard, which is commonly used for Phase I ESAs, was updated in 2022 (though this new standard was not fully adopted until 2023, many firms complied with the changes ahead of schedule) to include additional environmental considerations.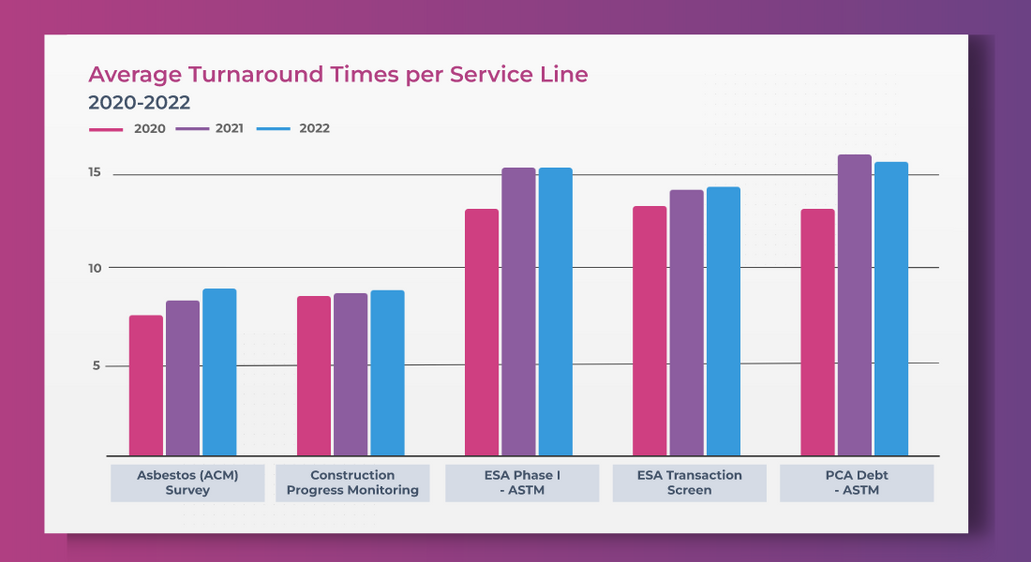 Phase I ESA – ASTM in Review
The line graph below showcases the volume of Phase I ESA – ASTM Reports generated over the past six years. While the volume of Phase I ESAs saw massive fluctuation, you can see an overall increase in Report volume from 2020 to 2021. Also, note the significant drop after COVID hit in 2020 and the interest rate hikes during the summer of 2022.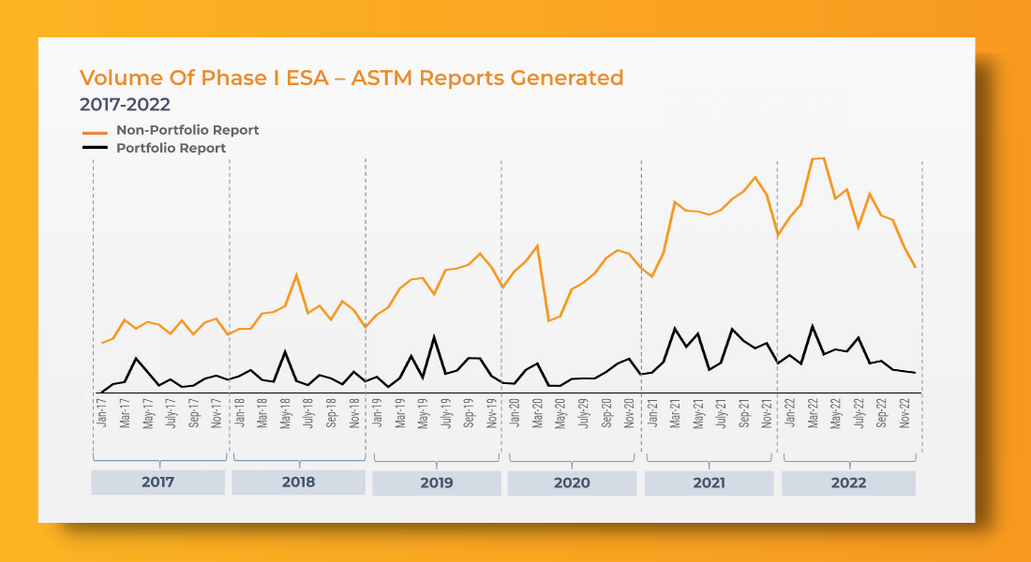 Reporting Sharing in Review
Sharing Reports in Quire is typically performed between a Quire company and a Contractor User (i.e. per project hire). Quire has been enabling Report sharing since 2014. Analyzing report sharing over the last six years, we've seen significant increases in the percentage of Reports shared with independent contractors in the years 2017, 2018, 2019, and 2021 to complete Reports like Phase I Environmental Site Assessments (Phase I ESAs). External pressures, such as COVID-19 in 2020 and rising interest rates in 2022, impacted Report sharing and Phase I ESA Report volumes overall.
Now, we see report-sharing trends declining in 2022 for Phase I ESAs, emphasizing the correlation between economic trends and contractor use. Contractors allow companies to scale (both up and down) in relation to output needs, and data from QuireSight indicates that companies are fully taking advantage of this elasticity.
In November and December of 2022, we begin to see slight increases in report sharing to close out the year.