For years, Quire has analyzed tens of thousands of Reports from dozens of market lines generated all around the world. As Quire works to provide productivity-enhancing solutions for Clients, we've developed unique time-tracking and process data from the firms that use our platform. We've created MarketWatch to share this data with report-writing professionals both in and outside the Quire solution.
What caused the February spike in Freddie Mac Small Business Loan Reports?
As we review and reflect on data collected in Quire in Q1 of 2023, we look to identify patterns of interest for our Clients and our team. In the first three months of this year, our analysts noticed massive fluctuations in the number of PCA Freddie Mac – SBL 1104 Reports created in January, February, and March.
This dramatic February spike in Freddie Mac – 1104 SBL Reports is not reflected across other Property Condition Assessment System Labels. Other than Freddie Mac 1104s, Freddie Mac + Fannie Mae Reports are the only other PCA System Labels that saw increases in February, both at smaller rates of 26.6% and 25.6% respectively, nowhere near the 366% increase of PCA Freddie Mac – 1104 SBL Reports. Additionally, the number of Reports for both Freddie Mac and Fannie Mae continued to increase in March, whereas Freddie Mac – 1104 SBL Reports declined in the most recent month instead.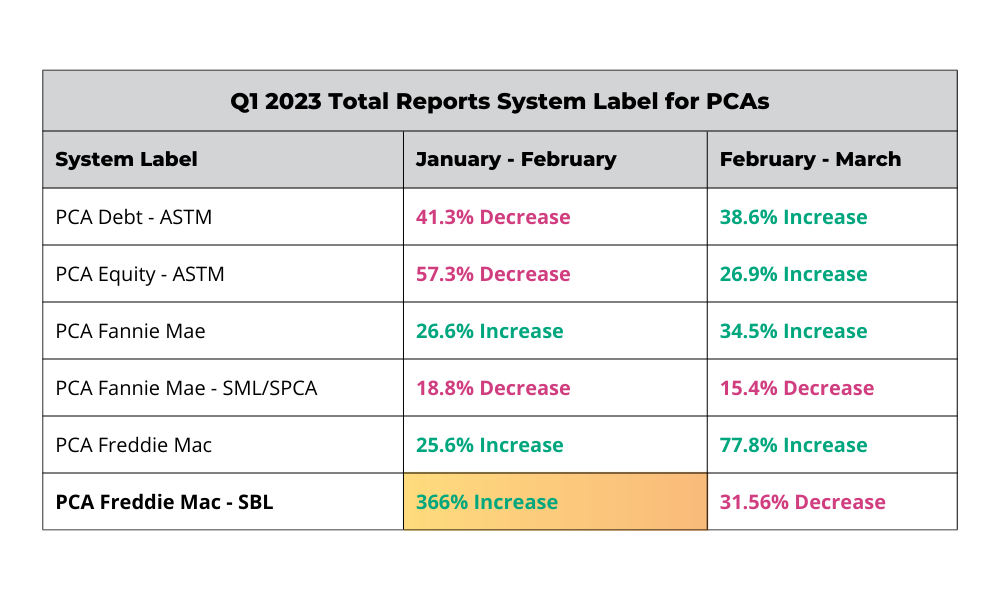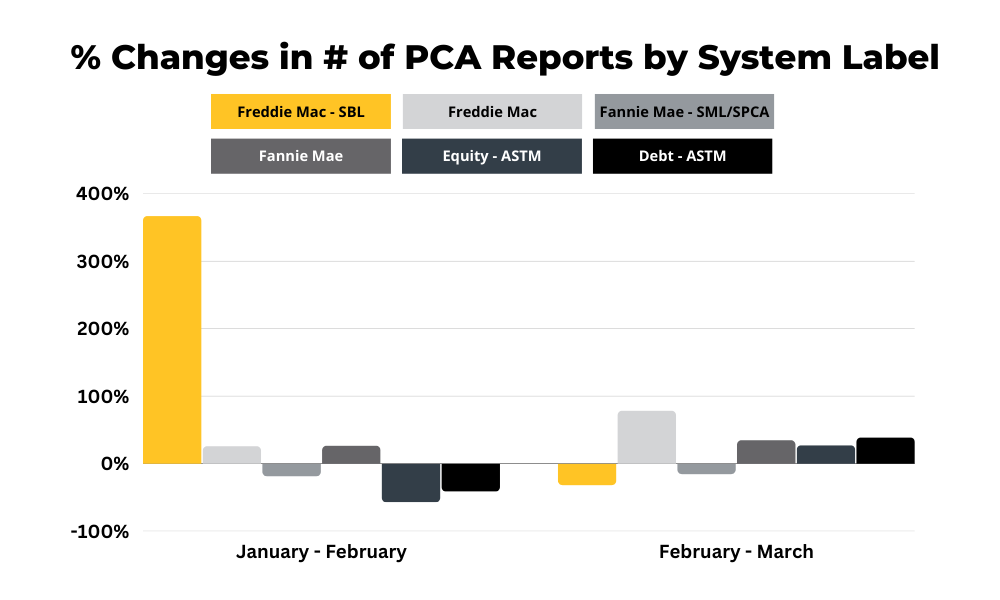 Spike in Freddie Mac – 1104 SBL Reports Due to Mortgage Rate Changes
The demand for Freddie Mac 1104 Small Business Loan Reports saw a significant increase as a result of the .40% drop in mortgage rates. Lower rates prompted many small business owners to consider refinancing their existing property loans or applying for new ones, and as a result, lenders needed to obtain updated loan reports from Freddie Mac to assess the creditworthiness of potential borrowers. The Freddie Mac 1104 report provides important information such as credit scores, payment history, and outstanding debts, which lenders use to evaluate the risk associated with lending to small businesses. As the demand for small business loans increased, so did the demand for these reports, highlighting the important role that they play in the lending process.
In contrast, Fannie Mae also decreased rates by .20% for small loans that were specifically for highly affordable 5- to 50-unit properties at the end of February. The numbers show that Fannie Mae's interest rate cut did not have the same impact as Freddie Mac's SBL rate cut. This is likely because Fannie Mae's rate cut was much less severe and primarily targeted a specific property type.
Quire's MarketWatch is a subscription for report writers, report reviewers, and technical report junkees to digest the latest findings in technical report writing industry trends. Insights are released monthly and cover a number of topics critical to business owners.