For years, Quire has analyzed tens of thousands of Reports from dozens of market lines generated all around the world. As Quire works to provide productivity-enhancing solutions for Clients, we're fully embedded in Technical Report Writing, enriching our understanding of the industry and our Clients' workflows. We've created MarketWatch as a way to share industry trends and insightful takeaways with report-writing professionals both in and outside the Quire solution.
---
The Shortage of Available Labor
The labor market is currently experiencing unprecedented challenges, with a shortage of skilled workers hampering businesses' efforts to fill open positions across various industries. A recent survey by the Associated General Contractors of America (AGC) and Autodesk highlights the severity of this issue. The survey found that a staggering 85% of the 1,400 contractors who responded had open craft positions, and 88% of them reported having a "hard time" filling these positions. According to an October 2022 Harvard Business Review article, while 90% of businesses feared they were facing future skills gaps, only 16% thought they were in a position to fill them.
The most significant obstacle cited by employers is the lack of qualified candidates, affecting a shocking 68% of firms struggling to fill openings. This situation is exacerbated by supply chain disruptions, which have made it challenging to get materials on time and have driven up material costs. As a result, 61% of the surveyed firms reported experiencing project delays due to worker shortages.
Struggles of HR in Recruitment
HR departments are facing immense challenges in recruiting and hiring qualified talent. Even positions that were traditionally considered easy to fill are now becoming increasingly hard to staff. For instance, roles like project engineers, equipment operators, and trade workers are witnessing shortages of qualified applicants.

This situation underscores the need to reevaluate how the workforce is prepared and trained. The AGC emphasizes the importance of investing in vocational education programs and expanding access to such programs, including through federal funding like the Perkins Act and Pell Grants. Additionally, there's a call to allow more individuals with construction skills to legally enter the country to meet immediate labor demands. Adding to the stress is The World Economic Forum's forecast, which suggests that technology has the potential to reshape one billion jobs.
Competing in a Tight Labor Market
In today's fiercely competitive labor market, organizations are reevaluating their recruitment and development strategies, embracing innovative approaches to secure and nurture top talent.
One such transformative trend is skills-based hiring, where candidates' skills take precedence over conventional qualifications like college degrees or years of experience. According to TestGorilla's State of Skills-Based Hiring 2022 report, a staggering 76% of employers across 22 industries have adopted skills-based hiring practices (used most often in the tech industries), with almost 55% utilizing role-specific skills tests during the recruitment process.
Skills-based hiring boasts numerous advantages, including the attraction of higher-quality candidates, the expansion of the talent pool, accelerated hiring timelines, cost savings in recruitment, enhanced employee retention rates, and the promotion of a more diverse workforce. This approach creates opportunities for individuals who may lack formal degrees but possess the skills necessary to excel in their roles. Notably, skills-based hiring has gained traction not only in the private sector but also in the public sector, with some states eliminating college degree prerequisites for specific positions.
Learning for the Long Gain
Simultaneously, self-directed learning has emerged as a powerful tool for promoting long-term skill development. One of the notable features of self-directed learning is "badging," a practice that involves publicly recognizing individuals' specific skill sets. Badges serve as trust markers, assuring potential learners of the expertise of those who hold them while also serving as motivating incentives for continuous learning.
IBM, for instance, launched its digital badge program in 2015, experiencing a substantial uptick in learning engagement and participation since then. To maximize the appeal of badges, they must carry genuine value, such as external recognition or internal rewards, further motivating individuals to invest in their ongoing professional growth.
Combining skills-based hiring with self-directed learning and badging creates a dynamic talent acquisition and development ecosystem. It not only allows organizations to identify and nurture top talent based on skills and potential but also empowers individuals to take charge of their career paths. In a competitive labor market, where the demand for skilled workers is high, companies that embrace these innovative approaches are better positioned to attract, retain, and unleash the full potential of their workforce, driving success in an ever-evolving digital and data-enabled world.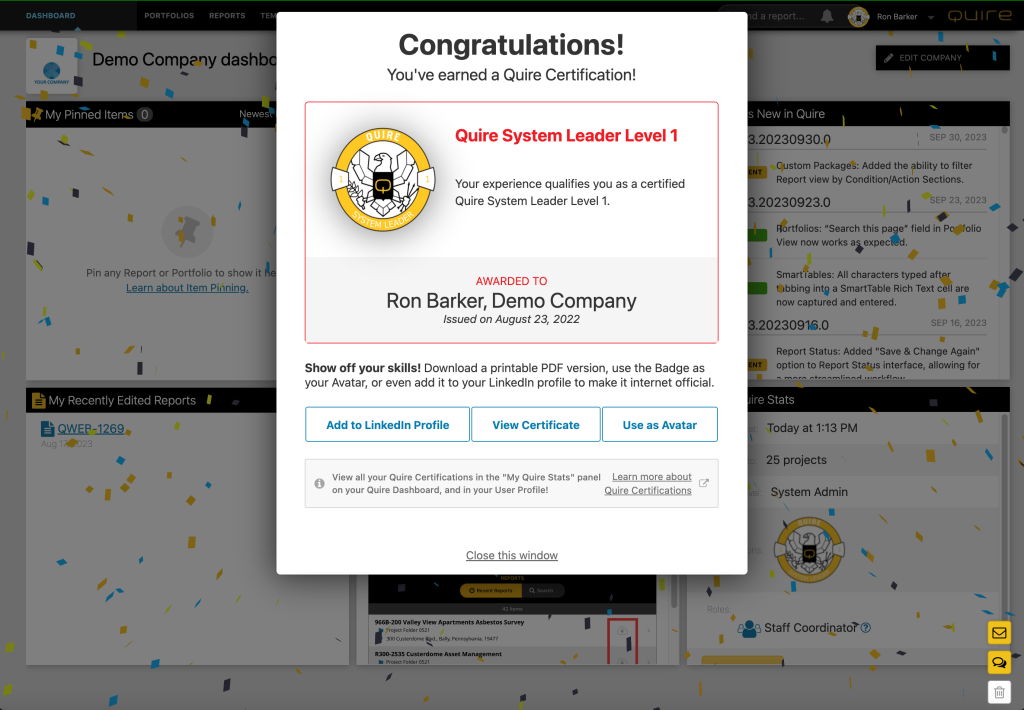 Help the Team You Have Now: Upgrade Their Environment
In the face of today's labor shortages, organizations are increasingly turning to technology to revamp their workflows and empower their workforce. These efficiency-driven solutions hold the potential to revolutionize the way businesses operate by eliminating mundane tasks and maximizing employee productivity.
Imagine a world where employees are liberated from tedious, time-consuming chores. QuireSight data reveals that heavy users of Quire's platform experience a remarkable gain of 3.25 business days per month (equivalent to over a month each year) to redirect their efforts towards more meaningful tasks when compared to companies not employing a Report writing platform. This transformation isn't limited to specific software but is a broader concept of leveraging technology to create a dynamic and data-enabled work environment.
Employers are recognizing the need to reshape their systems to be more personalized, flexible, and inclusive, fostering an environment that not only adapts to the digital age but thrives in it. By optimizing operations and removing bottlenecks through smarter processes, businesses can significantly improve their overall efficiency.
However, it's important to remember that efficiency is only part of the equation. If people consider what they do boring or pointless, or if the workplace itself is unpleasant, nothing else matters. So, in this quest for efficiency, an increasingly important part of the value proposition that employers have to offer employees is engagement in work that they find meaningful, exciting, and personally sustainable.
Employers must create a more personalized, flexible, dynamic, and inclusive system that delivers high-performance results in a digital and data-enabled world. This shift isn't just about streamlining tasks; it's about crafting an environment where every employee feels valued, engaged, and motivated. In such a setting, efficiency is not just a goal but a natural outcome of a motivated and fulfilled workforce.
Navigating the Changing Landscape
In today's labor market, businesses face significant challenges due to skills gaps and technological transformation. The competition for talent is intensifying, marking a new era. Companies must adapt by reevaluating hiring practices, embracing skills-based hiring, and optimizing operations with efficient systems. Achieving this will only occur through a sustained commitment to renegotiate with employees the value proposition of joining a specific organization and the factors that will motivate them to stay.